Exterior painting: A guarantee to add value to your home
Regardless of whether you paid for a new house or bought one which was previously owned by a different person, painting its exterior is by far the best way to own it. In fact, exterior painting is a very easy and cost effective way which serves as a guarantee to ensure that your house not only looks and feels warm but also suits your personal decoration preferences. The best thing about exterior painting is the fact that it not only serves to help rejuvenate the home, it also helps showcase your own unique design statement which in turn make the home more welcoming, accommodating and comfortable.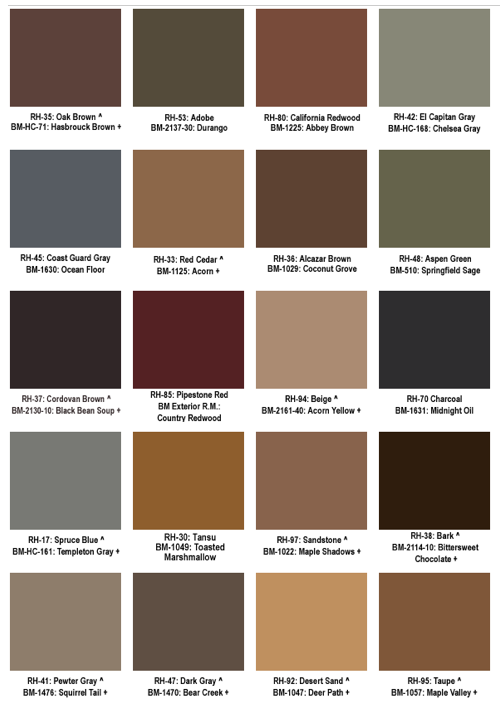 The following in an overview of the exterior paint to that you should seriously take into consideration since they will help you make decisions which will add value to your house.
1.    Types of exterior paint
The solvent based exterior paint
These are oils based and the liquid solvent used is mineral spirits. This type of paint is known to take slightly long to dry off [usually around 24 hrs from the time of painting]. This type of paint can be cleaned using paint thinner or turpentine.
The water based exterior paint
These are water based and are mixed together with water when painting. They are known to dry off very quickly. Clean up of water based exterior paint is very easy and fast since it only requires soap and water.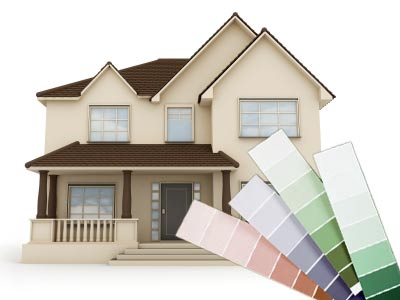 2.     Characteristic of the best exterior paint

Below are some of the key features of quality exterior paint to help you make the best off your exterior paint ideas. They include:
High color retention properties: quality exterior points should be able to maintain the original color long after being used.
Blister resisting properties: quality exterior paint should be able to prevent the passage of excess moisture since this might affect the paint layer. Take note; in case the paint is applied over a damp or wet surface, blistering will obviously show.
Chalking resistance: the ultimate outdoor paint should be able to prevent any white chalky substances from forming on the surface after painting is complete.
Hiding power: quality outdoor paint should be able to sufficiently conceal the surface where it has been applied creating a visual impression that focuses on the exterior paint colors used [especially when the initial color of the paint surface was different].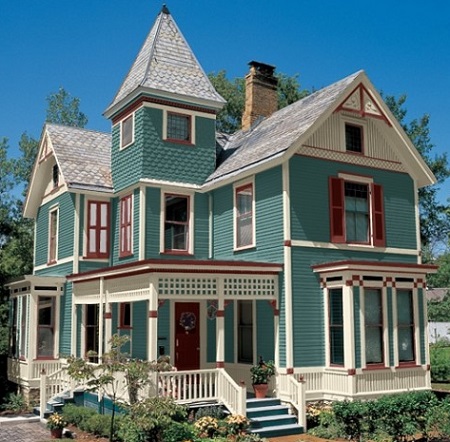 3. Exterior home painting guide: Important steps to follow

The following are the main steps involved in exterior painting, they include:
a.     Removal of mold, dirt and mildew

The exterior of the house is usually exposed to continuously changing severe weather conditions. As a result of this it tends to accumulate lots of dirt. Removal of this accumulated dirt should be the first step since it will help make it easy to go about painting the exterior.
b.     Pressure washing

Take advantage of pressure washing technique to help get rid of any remain of paint use earlier on the surface you would like to paint especially with roof replacement. The best way to do this is to first off scrub the surface and then apply pressure washing. This step is very important because the water which comes off the wall not only cleanses it but also serves to keep it hydrated [remember to let the wall to dry off properly].
c.    Caulking

It involves sealing any joints and all other damages which may be on the exterior of the building. Caulking is very important because it helps make sure that water does not seep in to the surface set to be painted.
d.    Actual painting and application of stain

Before painting the exterior of the house take time to consult to find out the best colors. Once you have made up your mind determine the color shade for the exterior painting. In areas where paint seems not suitable apply stains.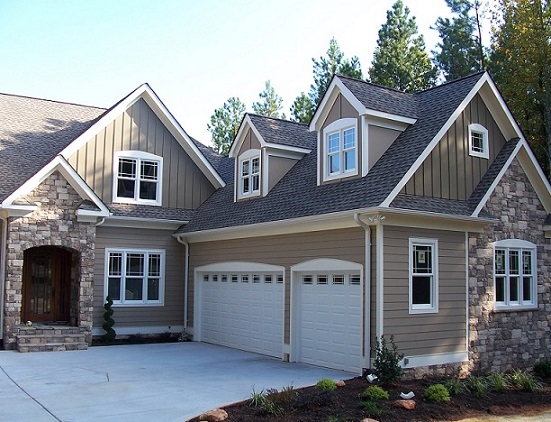 e.      Application of weather protection coating. 
After applying the paint and it has dried up properly, apply weather protection coat to help minimize the effect of weathering. This step marks the end of the exterior painting process.
The process of exterior painting should not only be focused on choosing the best exterior paint and contractor. While preparing to paint the exterior of your house, ask for rough estimates since this information will help you balance well the material need to turn into reality your personal exterior design painting statement. Remember to achieve a long lasting paint job, take time to prepare yourself and make sure you only use quality outdoor paint. In case you choose to hire a professional contractor, make sure that you discus with him details of your home and the materials which you intend to use.